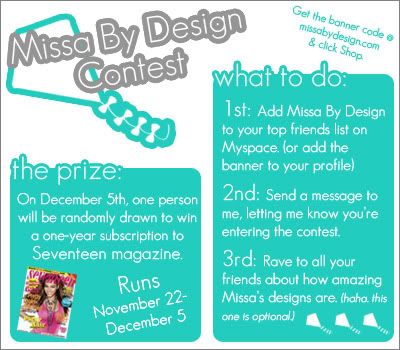 The very first contest held by Missa by Design has arrived!
It's going to be the easiest contest you will ever be apart of.
All you have to do is add the Missa by Design Mypspace profile to your top friends list on Myspace (or put the banner located in the Shop section of missabydesign.com somewhere on your profile).

The prize is a one-year subscription to Seventeen magazine.
Who wouldn't want that?
So enter right now!
Make sure you remember to send me a message on Myspace, that way I know you've entered.
If you do not meet the requirements of the contest on the day of the drawing (December 5th), you will be removed from the contest.

I told you it was easy.
View Post